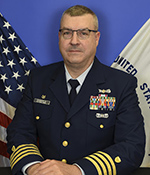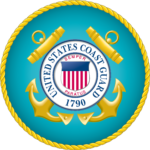 Captain Chris Cederholm

Sector Commander, Captain of the Port
U.S. Coast Guard Sector Miami
Captain Chris Cederholm assumed Command in May 2022. As the Sector Commander he is directly responsible for Search and Rescue, Law Enforcement, and Pollution Response missions throughout the Southeastern Florida region. He is also the Captain of the Port for four ports which include two of the largest cruise ships hubs in the world Miami and Port Everglades. Previously he was the Deputy of Sector Puget Sound in Seattle, WA. He came to Seattle after a year as a Countering Terrorism and Irregular Warfare Fellow at the College of International Security Affairs within the National Defense University.
Captain Cederholm has served in a variety of assignments at multiple levels of the Coast Guard. His operational assignments include Commanding Officer of the Coast Guard Incident Management Assist Team (CG-IMAT) in Norfolk, VA. He was also the Response Department Head for Sector Mobile, AL; the Incident Management Division Chief in Sector Southeastern New England; and the Executive Officer of Station Fort Lauderdale, FL.
His previous staff assignments include serving as the Coast Guard's Senior Service Advisor and graduate school instructor at the National Intelligence University in Washington DC. He also served as the Deputy Intelligence Chief at the First District in Boston, MA, and as the Training, Education, and Workforce Manager for the Assistant Commandant for Intelligence, Coast Guard Headquarters. After graduating from Officer Candidate School in 1997 his first officer assignment was as a Watch Officer at the Intelligence Coordination Center in Suitland, MD.
Captain Cederholm was raised in Western Michigan and joined the Coast Guard in 1990. During his enlisted assignments he served as both a reserve Port Securityman and as an active duty Boatswains Mate. His enlisted assignments included Group Grand Haven, MI, Station Manistee, MI, Port Security Unit 309 in Port Clinton, OH, and Station Two Rivers, WI.
He holds two Master's degrees, two undergraduate degrees, as well as a Joint Professional Military Education Phase II certification. He is a Type I Incident Commander and has achieved the permanent Boat Forces (Advanced) and Coxswain insignia. His personal awards include a Defense Meritorious Service Medal, four Meritorious Service Medals, three Coast Guard Commendation Medals, three Coast Guard Achievement Medals and several other personal and unit awards.