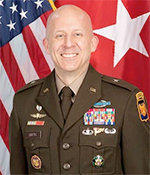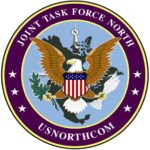 U.S. Army Maj. Gen. Matthew D. Smith

Commanding General
Joint Task Force North
Major General Matthew D. Smith is the 11th Commander of Joint Task Force North (JTF-N) headquartered at Fort Bliss, Texas.
Prior to assuming command of JTF-N on December 14, 2022, Major General Smith served as the Vice Director of Operations, The National Guard Bureau, J-3/4/7, Arlington, Virginia from February 2022 to December 2022.


His green-tab assignments include command of H Company, 121st Infantry (Airborne) (Long Range Surveillance) while the company was deployed to Iraq in 2003. He served as commander of the 1st Battalion, 121st Infantry Regiment while the battalion was deployed to Afghanistan in 2009-2010. In 2016, Major General Smith assumed command of the 48th Infantry Brigade Combat Team and commanded the brigade in Afghanistan in 2018-2019.
His key staff assignments include service as Deputy Director of Operations (G3) for the Georgia Army National Guard, Division Chief for the National Guard Bureau's J-81 Joint Capabilities & Planning Division, and the Deputy Director of Operations, Readiness, and Mobilization, Headquarters, Department of Army, G-3/5/7 (DAMO-OD).
Major General Smith was commissioned as an Infantry Officer in 1993. He holds a Bachelor of Science in Business Administration from University of Delaware, a Master's in Business Administration from the Goizueta Business School at Emory University, and a Master's in Strategic Studies from the United States Army War College. He is also a graduate of Harvard University's Homeland Security Seminar.
Major General Smith's professional military education includes the Infantry Officer Basic Course, the Signal Officer Advanced Course, the Military Intelligence Officer Transition & Advanced Courses, Maneuver Captain's Career Course, Combined Arms and Services Staff School, Counterintelligence Agent's Course, Command and General Staff Officer Course, the United States Army War College, Joint and Combined Warfighting School, Maneuver Battalion and Brigade Pre-Command Courses, Dual Status Commander's Course, and the Joint Task Force Commander's Course. He is also a graduate of the Bradley Leader's Course, Airborne, Air Assault, Jumpmaster, Pathfinder, and Ranger Schools.
Major General Smith's awards and decorations include the Legion of Merit (2), Bronze Star Medal (3), Defense Meritorious Service Medal, Meritorious Service Medal (8), Joint Service Commendation Medal, Southwest Asia Service Medal, Iraq and Afghanistan Campaign Medals, Global War on Terrorism Service Medal, Armed Forces Reserve Medal with Hourglass, Army Reserve Components Overseas Training Ribbon, NATO Medal, Joint Meritorious Unit Award, and Meritorious Unit Commendation. He is also awarded the Combat Infantryman's Badge.


He is married to Mrs. Laura Bosler.